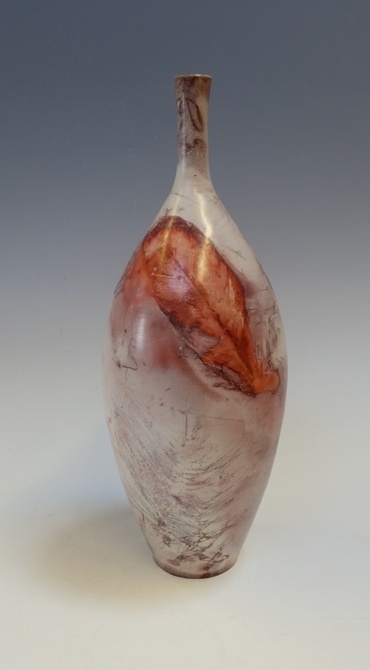 Christine Gittins
I have been throwing pots on the potter's wheel since starting out on a career in ceramics in South Africa in the 1980's.
The simplicity or complexity of shapes that can be created on the potter's wheel has constantly challenged me to explore and refine this technique further.
I work from a studio near Cardiff in South Wales, where I settled twenty five years ago.
My work consists of traditional classical shapes presented in a contemporary style.  Surfaces are burnished and left for the fire to create colour and markings on the smooth receptive clay skin of the vessels.
I use a variety of "naked raku" firing techniques for my work. Saggarfirings with salt, copper and sawdust give subtle hues of colour to the burnished surfaces of the vessels. I also work with black and white horsehair and feather-carbonization and often combine different techniques through multiple firings. Recent work shows the results of experiments with ferric chloride and foil saggars.
I bisque-fire my work in an electric kiln and use a gas-fired raku kiln for the saggar-firings.
Inspiration comes from my love for classical concepts of beauty, continuous links to my African roots and the pure joy of clay as a medium of expression.
Date

25th May 2017

Tags

2017 Exhibitors