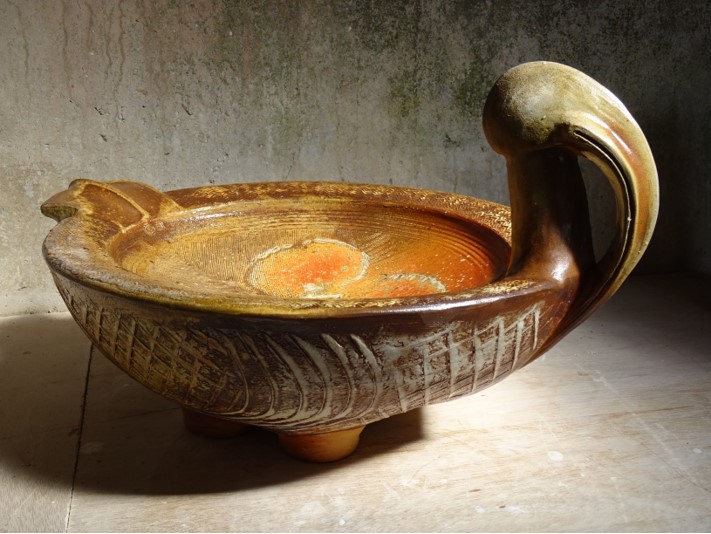 Chris Lewis
Following an apprenticeship at Farnham Potteries, Wrecclesham, Chris Lewis moved to South Heighton near Newhaven in Sussex in 1976.  The pottery there was established by Ursula Mommens in 1951, but since Chris' arrival the old farm buildings have been converted into a workshop and showroom, and the surrounding garden has become a beautiful setting for outside exhibitions.
Chris' first kiln at South Heighton was a two chambered wood fired kiln which he used successfully for twenty years.  However in 2000, this kiln was replaced by a large single chamber "anagama" kiln based on a design that has been in use all over the Far East for hundreds of years.  In this kiln the firewood is often in direct contact with the pots which get covered in ash and embers during the course of the three to four day firings.  This method of firing, although unpredictable, can often result in beautiful rich surface colour and texture that gives the work an almost archaeological character.
In fact, archaeology and the artefacts made by vanished or disappearing cultures has an abiding influence on Chris Lewis' work.  Regular visits to the ethnographic departments of museums and frequent travel to Africa, Asia and America, where he makes a point of searching out fellow makers, have informed and nourished his own work throughout his career.
Chris has exhibited in galleries and shows throughout the UK and Europe, and larger scale pieces have been featured in architectural and garden design projects internationally.
Date

26th May 2017

Tags

2017 Exhibitors