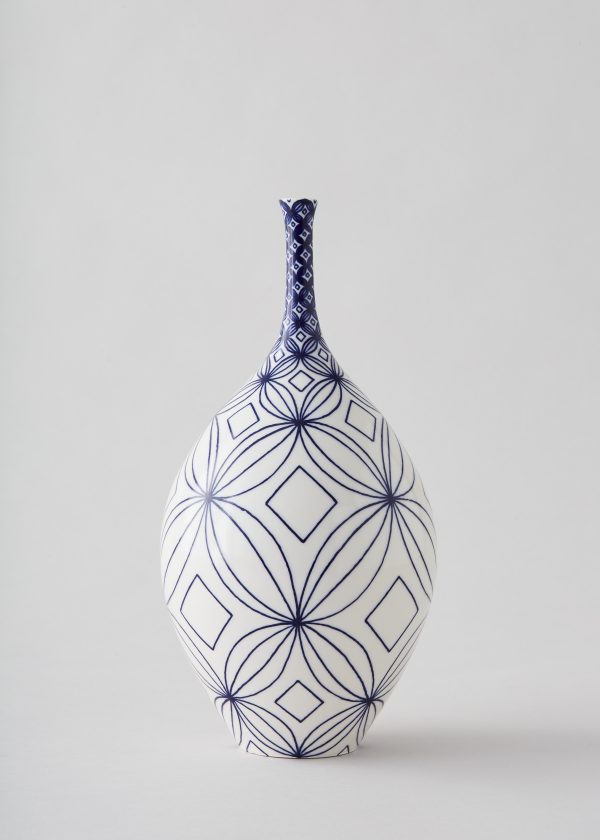 Rhian Malin
Inspired by her Grandmother's Willow Pattern collection, Rhian Malin continues the long historic tradition of hand-painting porcelain with cobalt-blue decoration. Her elegant wheel-thrown porcelain vessels are the chosen surface, created to stretch this tradition in to the 21st Century.
The beauty of imperfection is explored through applying geometric patterns to deliberately distorted forms, challenging the inherent perfectionist Rhian is at heart.
Taking a mathematical approach to applying each design, patterns are either projected onto vessels to accentuate their tactile, dimpled contours or divided up into eighths vertically to highlight their tapering forms.
Rhian is currently Artist in Residence at The Ceramic Studio in Warwickshire and has won support from the Crafts Council UK through their Hothouse Programme in 2016. She has since gone on to be the Winner of Bils & Rye Emerging potters exhibition and be selected for New Ashgate Gallery's Rising star programme.
Date

26th May 2017

Tags

2017 Exhibitors