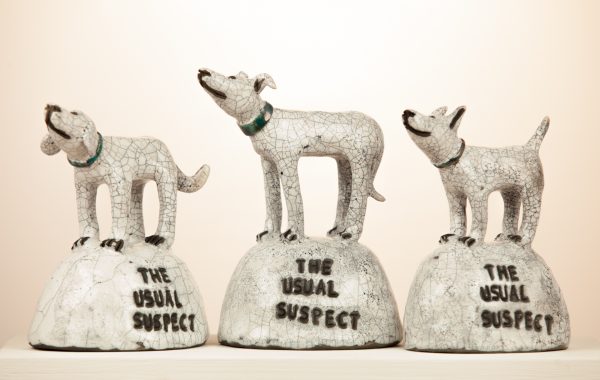 Demelza Whitley
Demelza's work is narrative, she is influenced by folk stories/myths and the everyday things in her life. The things she sees or hears, words, overheard snippets of conversations spark her imagination.
Born and raised in West Penwith, Cornwall, surrounded by the sea, boats regularly appear in Demelza's work often with the quirkiness of added wheels. As for dogs, some might say she is a little obsessed with them. Her own two dogs are her models, her muses; they don't stand still and pose though! Demelza is interested in the history and relationship between humans and dogs.
Demelza completed a degree in contemporary crafts at university college Falmouth in 2008. It was at university that she developed her own paperclay, which she makes using a white stoneware clay from St Agnes. She then Raku fires her work in her garden where her studio is also situated. Demelza particularly likes working with the elements from the clay and water that make the body of her work to the fire that makes it permanent. The weather plays it part too, too wet and windy and she can't fire the kiln, it's about working in unison with her environment.
Date

26th May 2017

Tags

2017 Exhibitors