Celebrating 28 years of Art in Clay at Royal Windsor Racecourse in 2022, this show has now become one of the most important ceramic events in Europe.The makers range from young imaginative students and relative newcomers to leading National and International makers. Some of the best ideas for ceramics in interior and garden design will be on display for you to admire and buy.
August 2022 – 19th, 20th & 21st
Art in Clay Windsor
Royal Windsor Racecourse
Maidenhead Road
Windsor
Berkshire
SL4 5JJ
Opening Times
Friday & Saturday 10am – 5.30pm
Sunday 10am – 5pm
Admission Prices
Adult £11.00 Seniors £10.50
Two-Day Ticket £19 Three-Day Ticket £27
Child 15yrs and under FREE
***Please note that for tickets bought on the days of the show at the ticket entrance due to COVID-19 we will not be accepting cash, only card payments ***
BUY TICKETS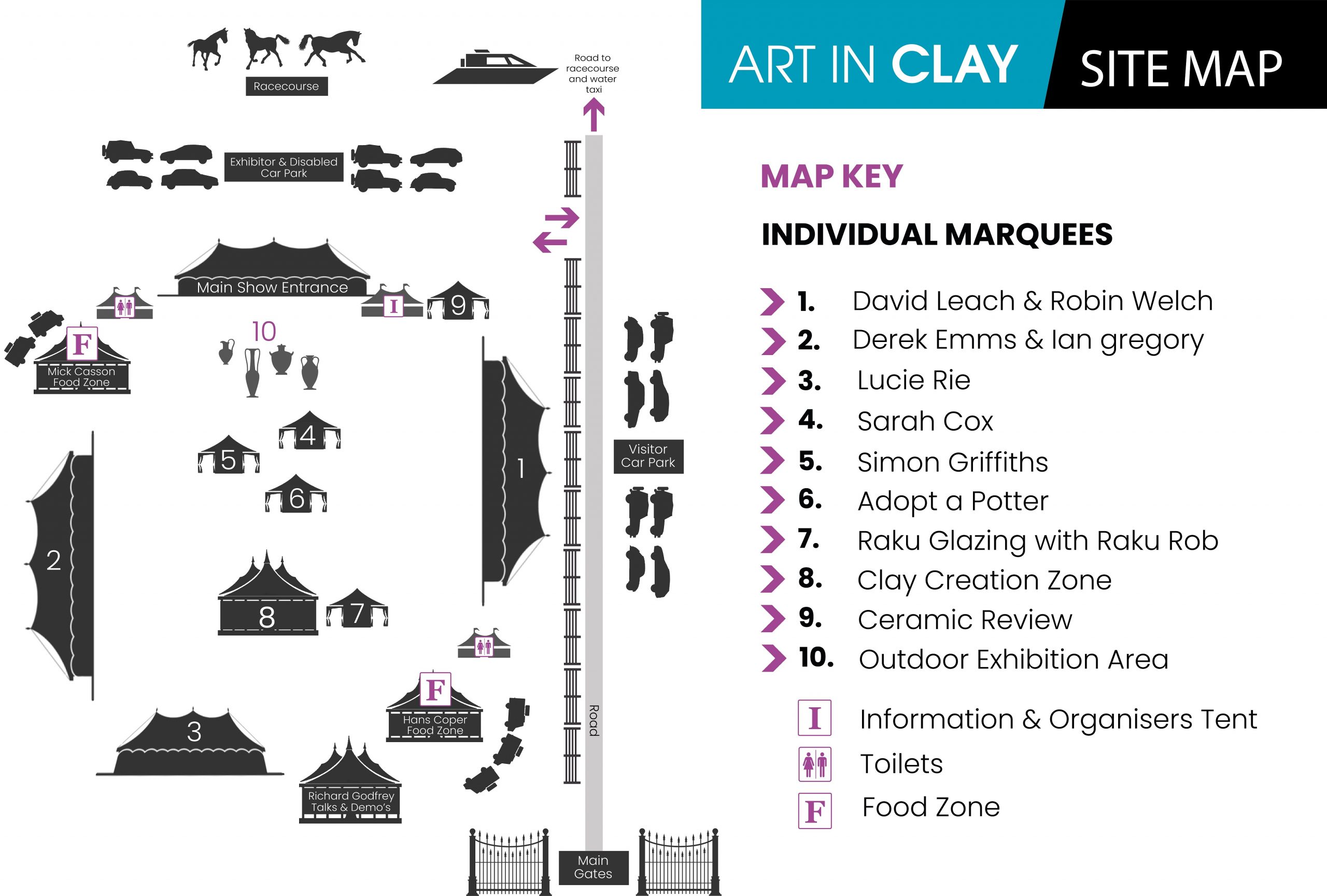 There will be demonstrations taking place inside and outside the marquees all weekend, you'll be able to see throwing, sculpting and hand decoration at various points around the show. There is also a full programme of talks and demonstrations planned.
There are two awards presented each year; 'The Valentine Clays Peers Award' (voted for by all the makers at the show), and 'The Potclays Student Award' The awards are presented when the show closes on Saturday (5.30pmish) and you are welcome to attend.
In 2022, the Mick Casson Memorial Award will be presented on the Saturday evening – this is a bi-annual award.
If you appreciate the beauty of lovingly made pots and ceramics; there will be something here to inspire you. The magnificent setting of Windsor offers the opportunity for a trip along the river with a bit of sightseeing too, creating a full day or more at this unique event.
Whether you are looking for something for the 'inside or outside' forget your preconceptions about 'craft fairs' and prepare to be amazed by the sheer diversity of Art in Clay.
FIND OUT MORE
Getting there
By Car – Conveniently located 1.5 miles from Windsor town centre the racecourse is easily accessible and well signposted from junction 6 on the M4 and junction 3 on the M3. If using sat-nav please use the postcode SL4 5EZ.
By Rail – The nearest stations located to Royal Windsor Racecourse are Windsor & Eton Central with direct trains to Slough and Windsor & Eton Riverside with direct trains to London Waterloo. Taxis are available at both stations.
By River Taxi – You are able to jump on a River Cruise that leaves from Barry Avenue Promenade (Opposite Browns Restaurant) to the Racecourse. The trips leave around every 20 minutes, just remember to jump off at Windsor Racecourse stop, which should take approximately 20 minutes. We recommend pre-booking your ticket, for further information click here. This service is provided by the French Brothers on 01753 851900 or visit www.frenchbrothers.co.uk
By Helicopter – Helicopters may land at the racecourse on a raceday, with prior permission from the racecourse on 01753 498400.
Where To Stay
If you're looking to extend your trip to Windsor Racecourse, there are tons of high quality hotels nearby with easy access to the racecourse. Many are also close to some of Windsor's most impressive attractions, including Windsor Castle, Home Park and Dorney Lake. We have several hotels below that we would recommend:
Royal Berkshire
Clivenden
Oakley Court
McDonald Windsor Hotel
Sir Christpher Wren
Castle Hotel Windsor
Harte & Garter
Disabled Visitors
Parking for disabled drivers is next to the entrance of our show. The show is on cut grass that is a field not a lawn and is therefoe uneven in places. We feel all the exhibition areas are accessible by wheelchairs. If you don't please let us know. It is a large show site and we have benches and chairs around the outside of the tents, but these don't have arms, so may be difficult to get out of depending on your level of disability. If you only use a wheelchair occasionally we would advise you to bring it along to the show, it may just make your whole day more manageable and therefore more enjoyable. There are temporary disabled W.C.'s on the showground
Parking
Parking is included in the ticket price for the show and is located on grass right next to the showground entrance.
Refreshments
A range of refreshments are available to suit all tastes. There are temporary catering facilities at various points around the showground that offer a varied selection of refreshments.
Things to do in Windsor
There are lots of great tourist attractions and things to do whilst in Windsor from Windsor Castle to a trip along the River Thams. For further information on Windsor click here.
Dogs
Dogs are allowed at the show on the Friday, Saturday & Sunday. Please can you ensure that they are kept on a lead at all times and that you pick up after them. There will be several bins on site in which you can dispose of your doggy bags.
Ticket Entrance
The main ticket entrance will be indicated on arrival and is close to the parking area. Payment is made when entering the showground (not on arrival by car).
Photos
We ask that when taking photos of exhibitors and their work that visitors just check with the artists that they are happy for you to do so.
COVID Code of Conduct & Staying Safe at Art in Clay
Please see below posters that will be present at this year's show and will give advice on visiting Art in Clay in a safe manor. We ask that all visitors read these guidelines prior to visiting.